Monday, January 14, 2008
Game Control
A memory from when John was on Game Control for the "Old West" Game
I didn't know John well, but in our classbook from the reunion this year, I was very saddened to learn of his passing. One of my favorite Stanford memories involves John.
He was part of "Game Control" for "The Game" one year at Stanford. Not to be confused with "Big Game", The Game, for those who don't know, is a grand-scale scavenger hunt / puzzle contest spanning 24 hours (or more). John was part of a group that organized a Game themed around the Old West. Part of the instructions for registering—and they were VERY explicit about this—was that payments would be accepted only in gold, or, perhaps in rare cases under extenuating circumstances, in government-issue legal tender. NO so-called "promissory notes" would be accepted.
Registration day came, and all the team captains showed up to register. John stepped up, in full Old West sheriff's regalia, introduced himself by some old-westy sounding name which I have long since forgotten, and called for those with payment in gold. No one came forward. He then, reluctantly, called for those with cash… no dice. To a man (or woman), we had every one us defied the instructions and decided to pay with a check. A look of consternation passed over John's face. He said something like, "Well, tarnation!" and then said, "I suppose we'll have to accept them, but we're not havin' any of OUR names put on those confounded things. We'll have to use some crazy, ridiculous, made-up sounding name like… oh, I don't know, something like, uh, say, (air quotes) 'John Pilafidis'!"
I was very sorry to learn of his passing, and my heartfelt condolences go out to his family and those close to him.
Tuesday, December 06, 2005
Playing xylophone with water glasses…
I wish i had some pictures to share, but I do have many stories to tell, this is one of them. I was terribly saddened to just now find out about his passing. Rest in peace John.
John is one of the most special people I have met in my entire life. To put it in perspective, I don't know how many people (who never met or knew of John) i've told the following story. In fact, i can think of a handle for John Pil stories which i've shared with others who never knew him regarding some wonderful memories when we were close friends in college. We didn't see each other after that except a few years back, we did a mini-reunion at late for the Train with Tony Quan. At that time, I saw that John was still the same wonderful guy that I knew over ten years before: he made me laugh so much with his great sense of humor.
I digress. Here is one fond memory:
A bunch of us went out to Korean BBQ on Castro Street in Mountain View. I don't remember if it was for somebody's birthday, but we had a fairly large group of maybe 10 people. We had, as usual, a great time. John was always one with the most incredible wit, yet he was also one of the most compassionate people you'd ever meet.
Anyway, as the meal was winding down, John started tapping his chopstick on a few water glasses to see what note he could get from them (I'm sorry if this isn't clear, but i'm not a musician). he would adjust the amount of liquid (either water or left over tea) by pouring different amounts in and/or out of the glass in order to get the right note he wanted. After a while, it became sort of annoying and in fact some people from other tables started looking over at our table.
....

i remember whispering to John something like "hey, i am not sure people are appreciating your little experiment here." He replied, "just a minute, just a minute." i probably frowned and just ignored him and not make eye contact with the adjacent tables who were every now and then looking at our direction annoyed. anyway, this went on for a few minutes. I was about to (as a good friend and courteous human being) grab a few of the glasses away from him to make him stop, when suddenly he started playing music with a series of several glasses. it was as if he had made a xylophone from the glasses (for my lack of musical knowledge and vocabulary). i don't remember the song he played, but it was beautiful and after he was done, everyone at our table and the surrounding tables applauded.

that was one of many moments where i learned of John's musical genius (among his many other talents which are sorely missed by the world). I'm so sorry that such a gift of music, his wit, and human compassion are no longer with us. I hadn't spoken with him in probably four years, but still I miss him.
Wednesday, January 12, 2005
The Homecoming Float Theme Song
I knew John through my brother, Robert Lee (he's pictured playing piano with John somewhere on this site). I always thought he was such a talented piano player. His improv skills amazed me, and always made me jealous. Well, it came time for Upland High's homecoming parade, and we were asked to put together some music for the Egyptian float. I can't recall what club was doing this. I was a junior at the time, so I thought I was pretty cool for being a part of this.
John had this Casio CZ-1 synthesizer that was the coolest thing I'd ever seen. I brought my Yamaha DX27 to his house, and we started to talk about what to play. John, being the older and wiser one, told me to just "play and see what happens." Our friend Alan Low started to play this drum loop, and then BAM! John started to play. I just sat there for a while, in complete shock, because what he was playing was SO COOL. He stopped and looked at me. "Why aren't you playing?" he asked. I told him that I didn't know what sound to use. John then smiled and said "It doesn't matter. When you start playing, you'll know whether it's the right sound or not."
I'll always remember those words, because I think it's the way John lived. I lost touch with him after high school, but I always had updates through my brother Robert. John had this knack of making you feel comfortable in your own skin. He was witty, and sometimes his wit was unfortunately directed at you, but it was always meant to encourage, never to discourage.
Well, we recorded the egyptian thing, and unfortunately, never got to use it. The float thing never happened. I will always treasure that recording. It's a great reminder for me of John.
Wednesday, December 01, 2004
Holiday Greetings
Here are some designs that John created last year for the holidays.
Happy Holidays & Warm Wishes John!!!
You are thought of fondly and missed
dearly. Thank you for sharing the gift
of your bright spirit and warm heart.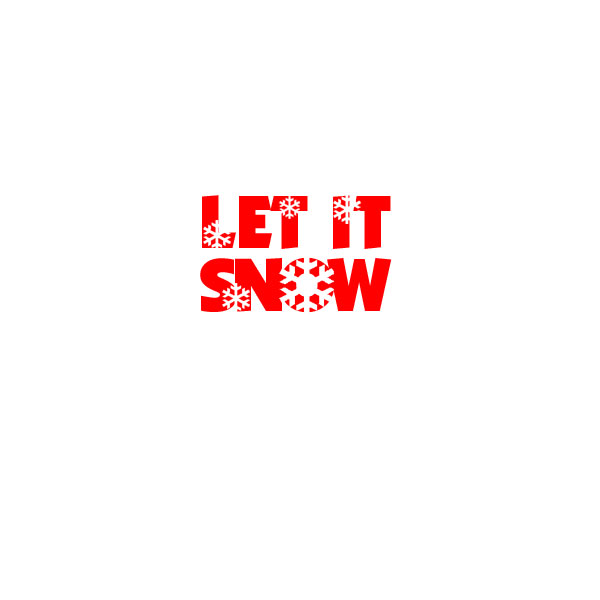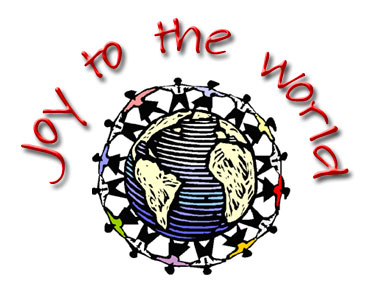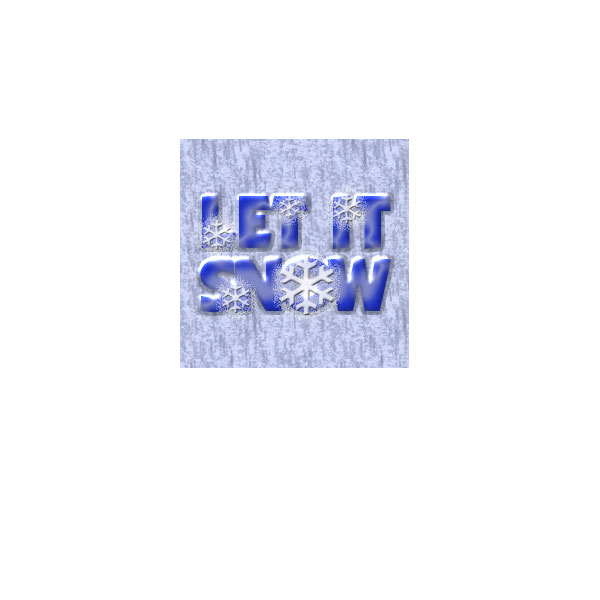 Tuesday, September 28, 2004
Of Beer and Checkers
From the memorable quotes department:
One day, several years ago, John and I were discussing beer. Here in Seattle, there are almost as many micro-breweries as there are coffee shops (they go hand in hand, right?), and John had really taken to studying and enjoying the different varieties.
At one point, he took a drink and said, "You know, Rob. Being a beer connoisseur is sorta like ... being a grandmaster of checkers."
It's one of my favorite quotes - observant, eloquent, and witty. It came to me last night as we were discussing beer at a wine tasting.
Tuesday, September 21, 2004
A Day & Date With John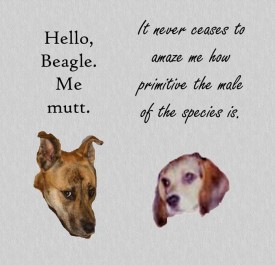 John will always be a good friend in my heart. We had many fun times giggling about all our past and present nightmarish dates. He told me stories that make my bad dates look great. I can still hear and feel the smile on his face each time we had our enthusiastic phone conversations. His voice would light up full of luster and joy. We supported each other, by sharing our dating escapades, life struggles and happy joyous accomplishments.

I met John on one of those trendy date place web-sites. I still remember the two interview questions he asked prior to ever meeting me in person. He told me that they were constructed from his host of bad date experiences.
"1. Would you ever date a convicted felon who murdered your friend?"
"2. Would you ever partake in cannibalism?"
These questions made me laugh and I remember saying, "Now you're scaring me." And he answered, "Well, you haven't answered my questions yet. And now I'm afraid because I haven't heard you say NO to either one." We both laughed together, and of course my answer to both questions was…NO.

We both had creative edges and during our date we decided to paint ceramics, we ate at Il Fornio for dinner and later watched the sunset just off the coast of Torrey Pines Beach. The sunset was a perfect Indian red that just peaked off the edge of the world and when the stars slowly crept in—John made a wish. He said, "This has been one of the best dates I ever had. I got to paint ceramics on a date which is something I've always wanted to do…I had a nice dinner with a beautiful sunset …We're under the stars…You know what would make this night even more special? If there were fireworks in the sky…" Just after that was said, slightly north of us just off the edge of Del Mar flared fireworks in the sky! I was amazed and said, "Quick do it again! Make another wish!!!"

Our sweet friendship was so much fun. For me, the joy and smiles will be forever in my heart. John, you will always be, forever my friend.
Friday, September 17, 2004
Growing Up With John
I have so many wonderful memories of time spent with John.
Life in Singapore - piano lessons & recitals, SAS, chocolate rum cake, holidays & charades…
Travel - Greece (who can forget our 'ice cream specials'), Bali & Rawa and beyond…
Visits to Sonoma, Coronado, Seattle & Upland…
I miss you very much John.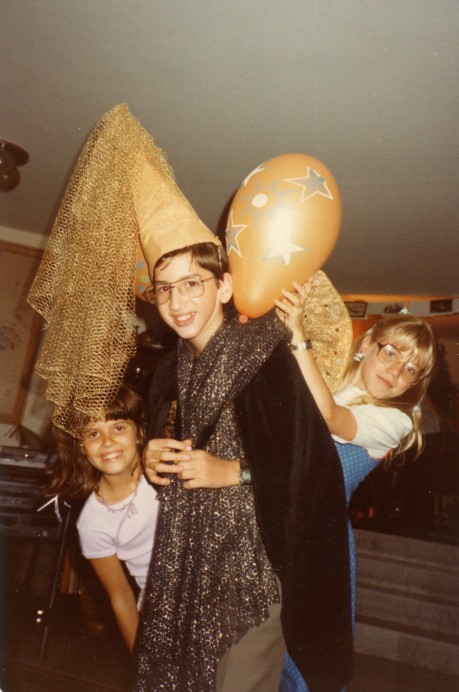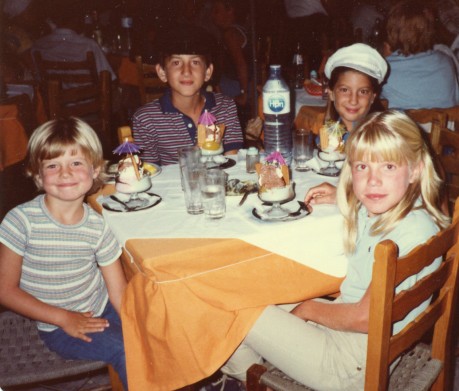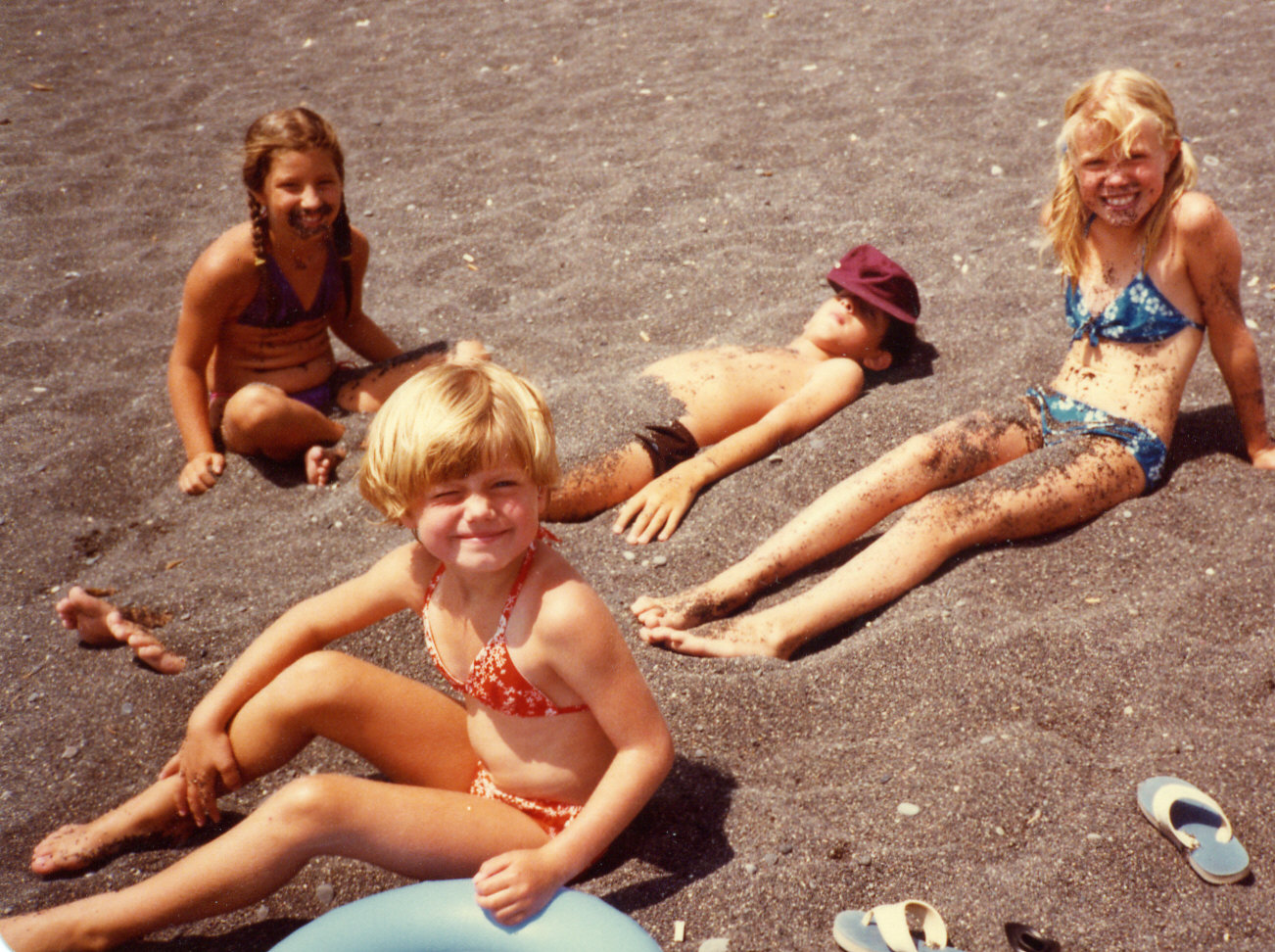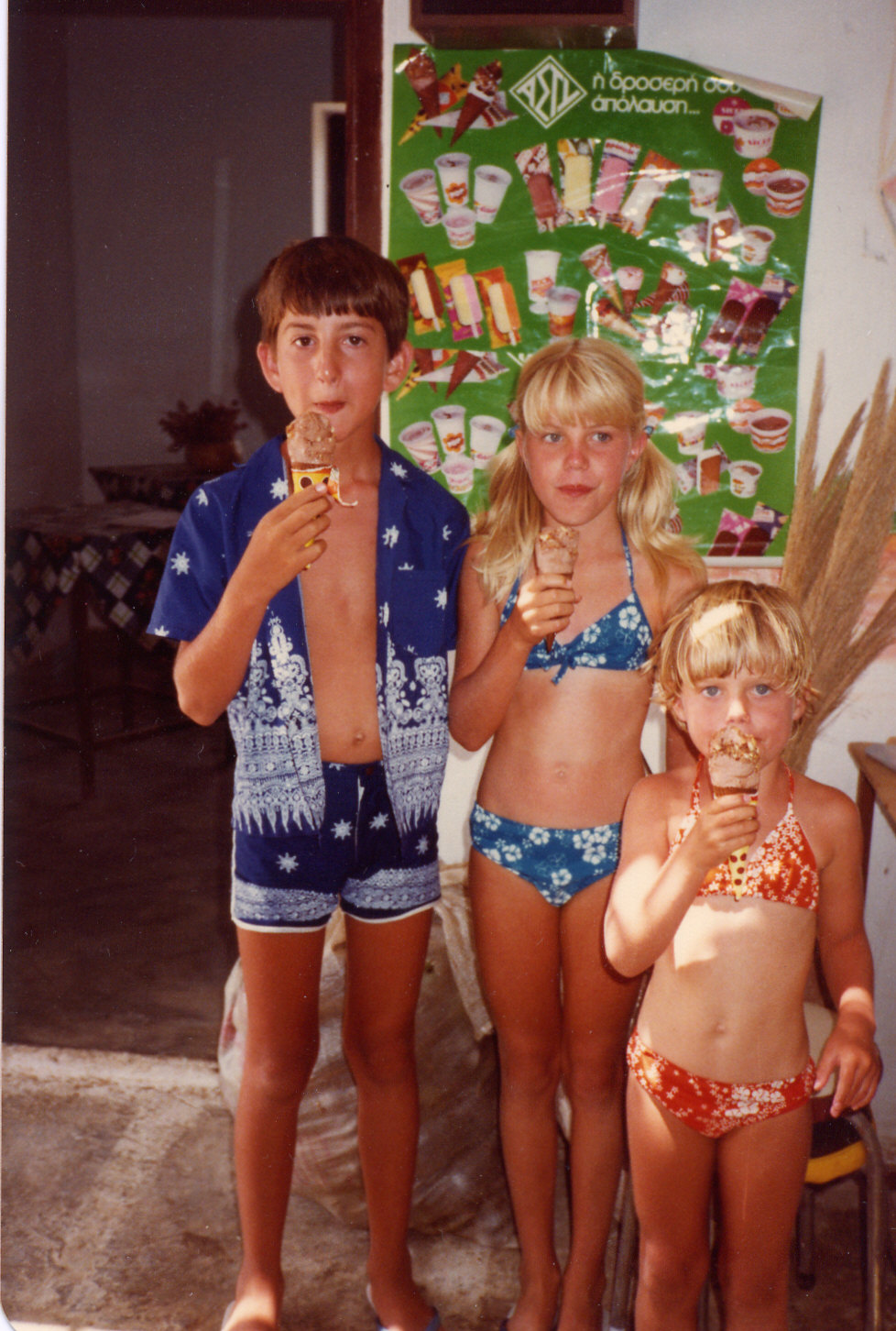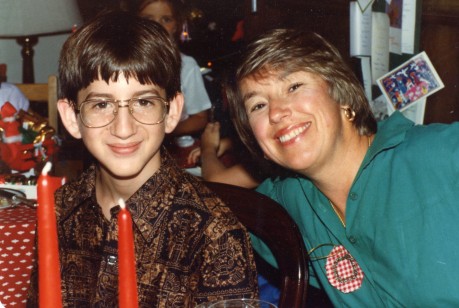 Friday, July 09, 2004
Stanford 2004 Costa Rica Expedition
Here are some photos of John from the April 24 - May 2, 2004 trip to Costa Rica that he took with Stanford Travel/Study. John touched all of us on this trip and we will all miss him greatly.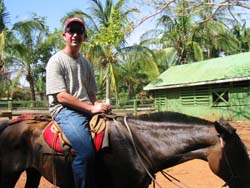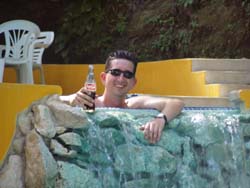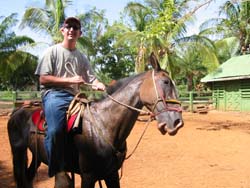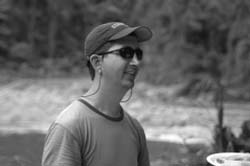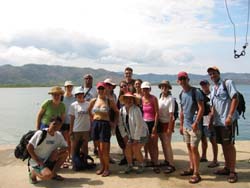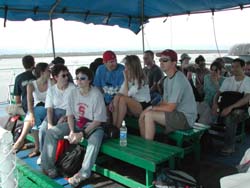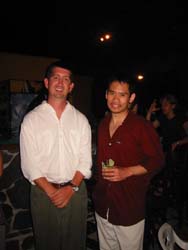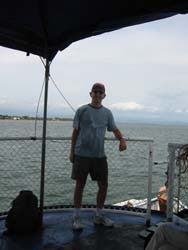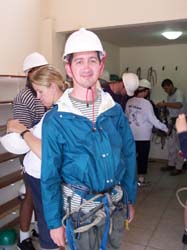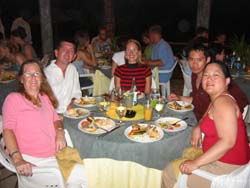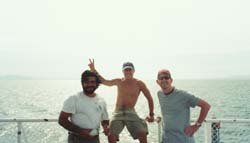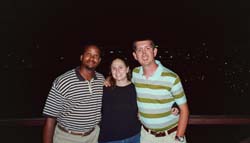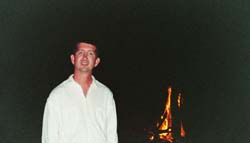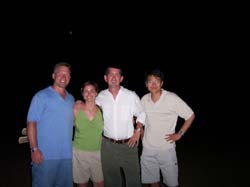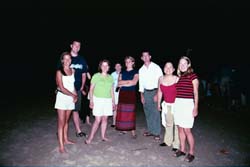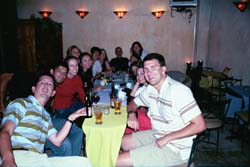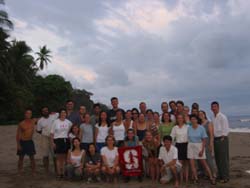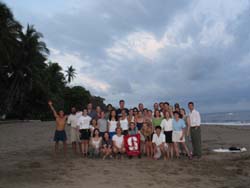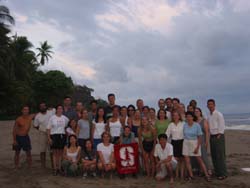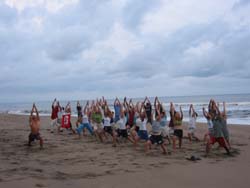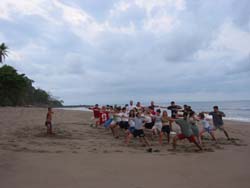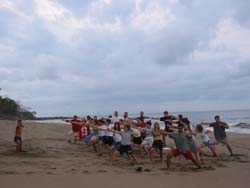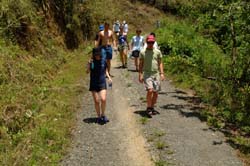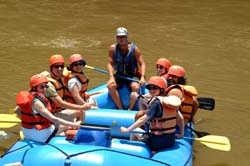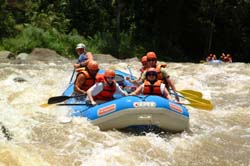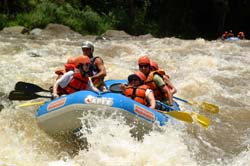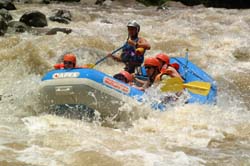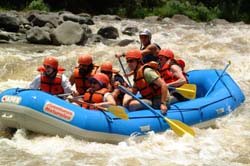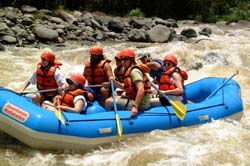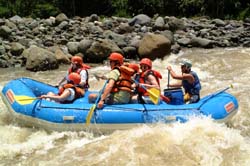 Team Luxor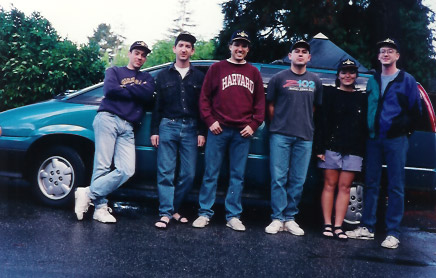 Friday, July 02, 2004
A Fistful of Floppies – or – How I Met John
John came to town when I was sick in the hospital and couldn't defend myself. While in the eighth grade, I caught a really nasty case of pneumonia. I was sick at home for three weeks followed by a week in the hospital.

It was during those first three weeks that my friends formed a computer club and elected me president (despite the fact that I was in absentia). I wasn't surprised at my election. I was something of a top dog in the nerd scene. I had more floppy disks than anyone else. Never mind that my family didn't actually own a computer. That didn't matter. I had 40 floppy disks, and in the little town of Pioneer Jr. High, that meant something.

My illness took a turn for the worse and I ended up in the hospital. My friend, Mike, came to visit me. He had news. "There's a new kid at school" Mike hesitated. "And he's got even more disks than you."

I couldn't believe it. They said he had hundreds of disks. There was just no way. I resolved that when I returned to school, I'd find him and expose him for the charlatan he was.

I hung around the computer room my first day back, waiting for the stranger to arrive. Soon enough, he came. They called him John.

He seemed charismatic, even friendly. I didn't let that distract me. I had work to do.

I wasted no time: "They say you have hundreds of floppies. Is that true?"

John laughed. "Nah. Only about 100." He then told me about living in Singapore and it's bustling, though not entirely legal, software trade. He showed me some of the cool programs he had with him. All the while he was warm and genuinely funny. Within minutes, I was hooked. This new guy John was cool. Very cool.
Thursday, July 01, 2004
John, Hilary and Chris hiking, 3/04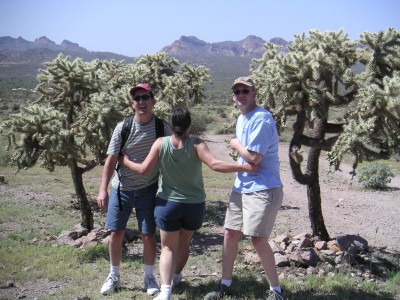 Hiking outside of Scottsdale, 3/04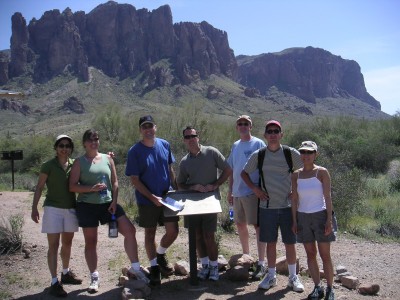 John, Greasewood Flats, 3/04
We enjoyed a memorable trip to Scottsdale in March '04. Chris, ever the gracious host, took John and the rest of us to Greasewood Flats, a down-home restaurant/music venue (country AND western!) featuring burgers so good, you waited a couple hours for 'em! Here, John enjoys the atmospherics…greenbacks on the ceiling!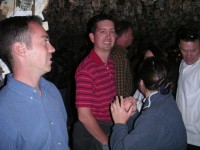 New Year's Eve 1996(?) - John and the Ladies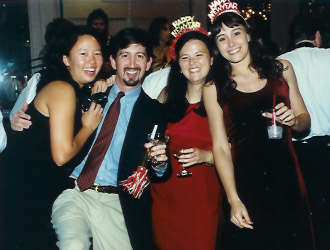 Debby, John, Lyd, Kim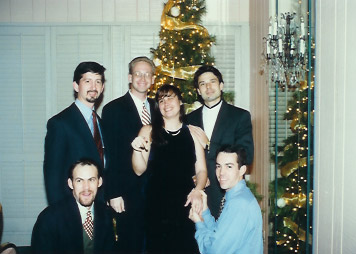 Hilary and her entourage.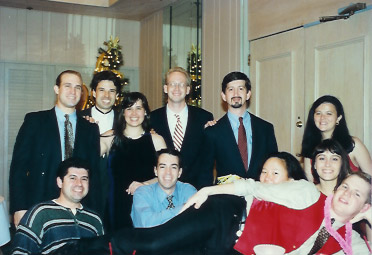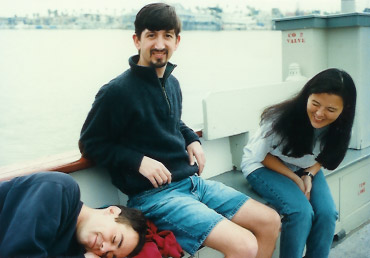 The Balboa Island Ferry. Shawn, John, and Lyd.
Cabo San Lucas
More pics from our trip to Cabo in 1994.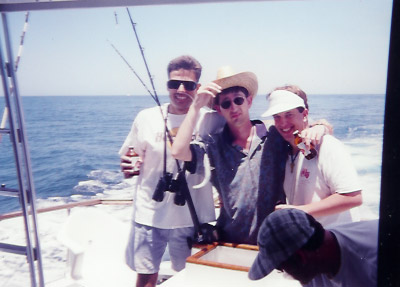 Matt, John, and Jose.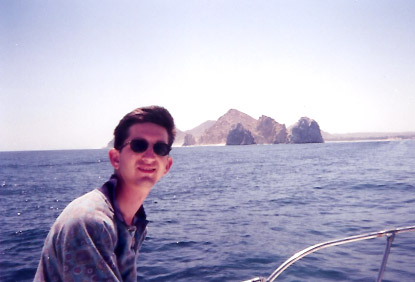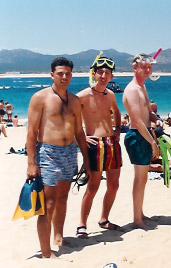 Matt, John, and Chris.